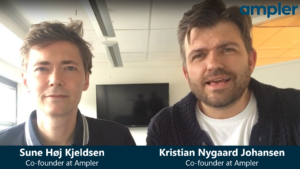 A shared vision, hard work and a dynamic team. These are the main ingredients in Ampler´s momentum. Envisioned almost five years ago, Sune Høj Kjeldsen and Kristian Nygaard Johansen, two fellow management consultants, created Ampler to make life less stressful for busy consultants.
Check out this feature-interview and get an inside perspective on startup-life.
Why did you start Ampler?
As former management consultants, we were used to professional PowerPoint-extensions, but when we found ourselves in corporate positions, we didn't have the best tools available anymore. We realized that a lot of our peers faced the same challenges, and that there was a huge market potential on both the agency and corporate side, says Kristian Nygaard Johansen, Ampler co-founder.
How did you get Ampler off the ground?
Actually we started a co-creation process with potential clients, and focused on their challenges. With collaborations in place, Kristian reached out to Søren Olofsson, one of Denmark´s most accomplished .NET and Office API-specialists and got him on board. Søren started building, as Kristian and I designed the product in collaboration with potential clients. Today, we are super happy that we chose this approach, as it really matured the product in the beta-phase. As a result, we could offer a better and more customized end-product to our clients, says Sune Høj Kjeldsen, Ampler co-founder.
Which challenges did you face in the startup-phase?
You have to put yourself out there. We quit our well-paid jobs and pension plans to focus 100 percent on Ampler. It was a leap of faith to be honest, and it was a challenge at first to secure a steady cash flow with our beta-driven approach. But we had complete confidence in our concept. And the positive input from our clients in the beta-phase really boosted our confidence. It has been an incredible journey so far, says Sune.
Where is Ampler today?
Today, we have a wide and steadily increasing client database, and several external investors have decided to join the Ampler-movement. We are super excited about the buzz and proud that people, whom we highly respect from the management consulting environment, have decided to invest in our company. It´s a stamp of approval, and we can´t wait to move things forward in 2020, says Kristian.
Any particular wow-moments?
At one point, when we presented the product to a couple of key clients, they independently asked, if we could expand to Excel and Word. That was a game changer. Today, Ampler is a productive platform for PowerPoint, Word and Excel, and we will be launching for Outlook in the near future, says Kristian.
Best advice to other start-ups?
Involve your clients, co-create and take risks. You have to invest yourself completely; there is no middle-ground. We are super appreciative of the positive feedback, we have received along the way. We would definitely advise others to stay humble, listen and to focus on the product, Sune and Kristian agrees.