Our tech-wizard and co-founder Søren Olofsson shares his best advice and some personal insights.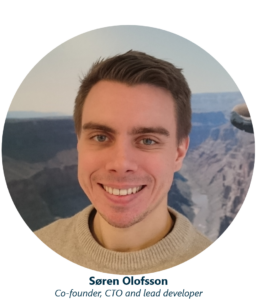 Why did you decide to join Ampler in the first place?
I met Sune and Kristian, who first got the idea for Ampler, through a mutual friend. I had previously done a lot of Microsoft Office development in a large company, which was super interesting and a very in-demand niche. My colleagues kept asking me to develop new tools. So, when Sune and Kristian pitched the Ampler concept, I was hooked, and we also really hit it off on a personal level. These guys are just great fun and super inspiring. During the next months I spent a lot of weekends and evenings developing Ampler on a freelance basis, and then eventually joined full time.
What are your main tasks and responsibilities?
My main task is to develop Ampler´s unique codebase and to make the general architecture as simple and scalable as possible.
What is your take on Ampler´s mission?
Our mission is to provide the globally preferred solution for increased Office productivity.
What is your educational background?
I have an M.Sc. in Computer Science from the Technical University of Denmark (DTU). Hard core stuff, really. With computer science you learn programming from the ground up, which I think is super interesting .
Which personal experiences can you put into play in your work with Ampler?
Two years ago, I became a dad. It was the biggest moment in my life, no doubt, and it has heavily
influenced my time-management.
A student once asked Paul Graham, co-founder of the Y combinator start up-accelerator, how to become more productive. Paul answered that having kids had made him more productive, even though he wouldn't recommend having kids just to become more productive. I guess the same kind of goes for me. It has bumped up my focus and productivity. An unexpected but positive side-effect of parenthood!
Where do you make a difference?
On a professional note, I am proud to have co-created a body of code, that encompasses a huge level of complexity, and which is at the same time is comfortingly simple and intuitive. In a wider perspective, it feels great to support hard working professionals, and to help them free up time that can be used with family and friends. The world needs it!
Best career advice you ever had?
I never received any brilliant advice, actually. But I found a deep belief that hard work always beats talent in the long run. Life is not a sprint, it´s a marathon, and you have to be out there every day, doing your best effort.
Personal interests and hobbies?
I recently became a dad for the second time. I guess that answers everything about my spare time.
Why should others join Ampler?
If you want to be part of an ambitious, fast growing startup, this is it! Ampler is exploding into the Office world, and it is a true privilege to be part of the crazy ride.
At the same time, Ampler is definitely the most humane and friendly working environment, I have ever experienced. Everybody is super ambitious, but we manage our own time to suit family and social activities.
Any advice for young candidates out there?
Work hard, care about others and continue doing your best every day!